"Invite your friends and both get travel credit"
Aircnr is all about expanding the share economy by proving the best car rental platform for Airbnb, VRBO/HomeAway, Flipkey and other short term renatal businesses. We want to amplify companies such as Airbnb, Homeaway, VRBO, Flipkey, etc by going beyond just a house and giving all hosts the ability to lend a car in order give hosts the opportunity to becoming a better host, increase their rankings and make more money while providing their guests with the "Full Experience" (a house and a car for their trip).
In order to help expand the share economy; Aircnr has implemented a Travel Credit system. By inviting your friends, both you (the invitor) and your friend (the receiver) will receive travel credits to use for your next trip in Aircnr. Travel credit will be provided as coupons that will be discounted on your total price in the checkout page. Simply claim your credit at any time you want and the applicable amount will be deducted in your next trip (if you wish to utilize it). To have a cheap car rental, invite more friends and thell them about renting a car with Aircnr and receive Travel Credits.
How to invite a friend:
All users that create an account with Aircnr will receive a self generated link that can be shared with anyone. We offer the options to share it via Facebook, Twitter or Email. However, you may share your self-generated link anywhere. Below is an example of the "Claim Credit" page that is accessable through your self-generated link.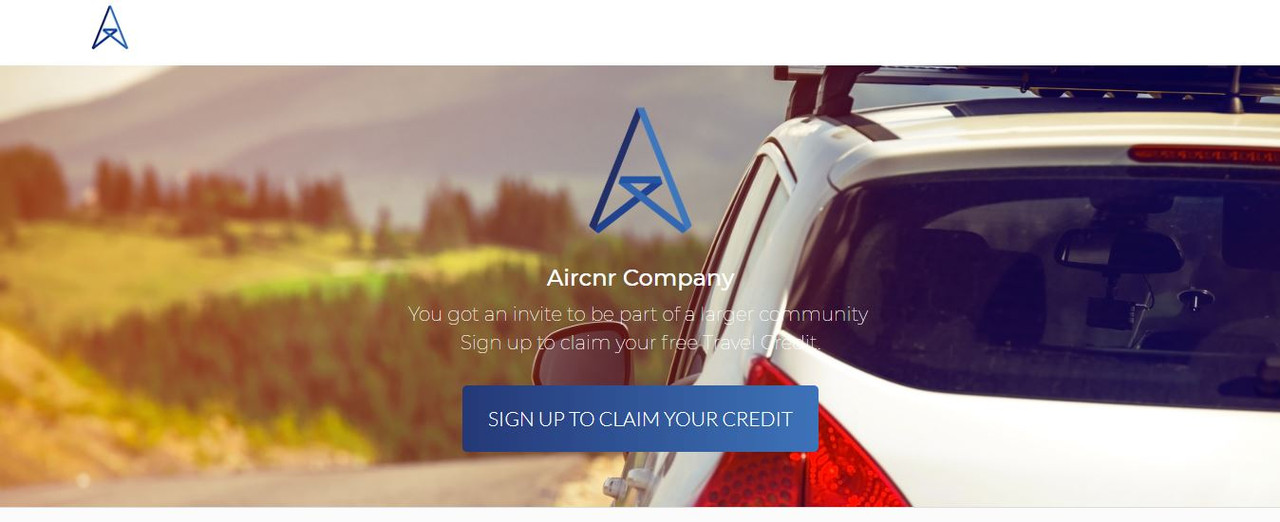 Claim your credit:
After your friend (the receiver) has sign up using your special link; then both you and your friends will receive the amount designated. Remember that you can share your link anywhere. However, for now there is a limit to only four friends that can sign up using your special link; so make sure you hare it with your closest friends first. After your friends have signed up and you have received your travel credit you can redeem your credits by simply clicking on the "Claim your Travel Credit" button in your "Travel Credit Page." Below is an example of a "Travel Credit Page" and the "Claim your Travel Credit" button.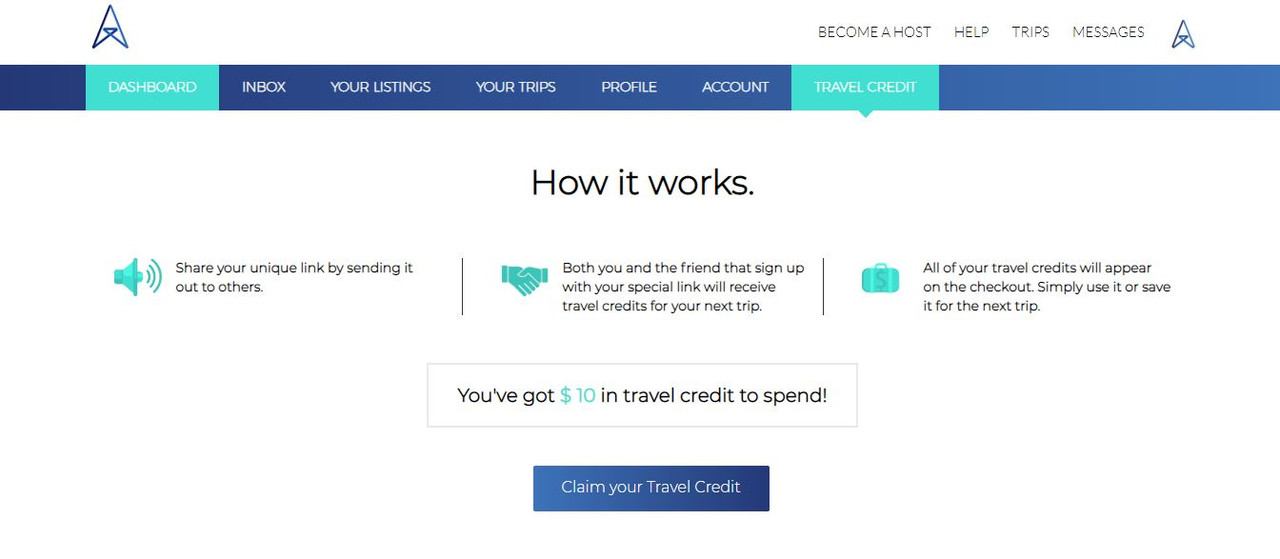 Redeem your credit:
Once you have clicked on "Claim your Travel Credit" button the amount displayed in the "You've got x in travel credit to spend" will be utilized as a discount in the checkout page of your next trip and the amount will reset to $0. You have the option to use it or save it for another trip. Even if you claim your travel credit the amount of friends that can sign up utilizing your unique link is still limited to only four. Below is an expample of how the travel credit is becomes a coupon and is available in the checkout page.